Burggarten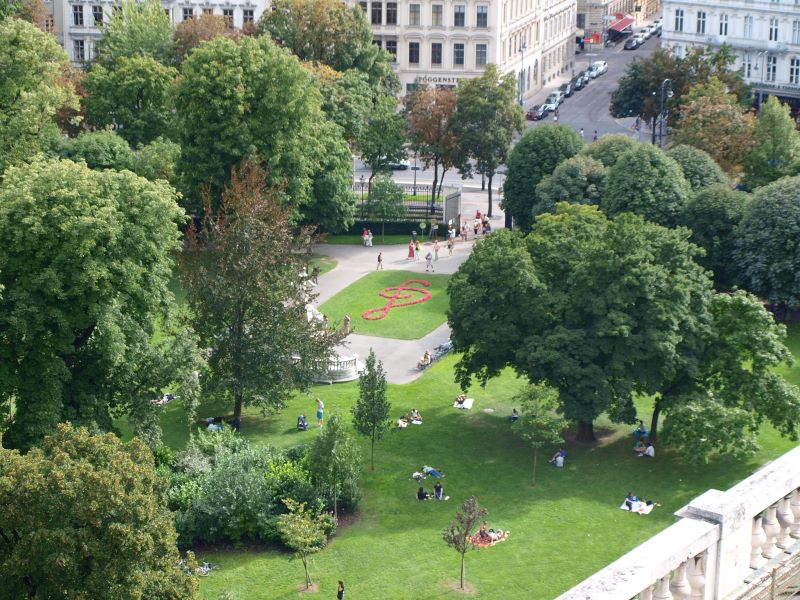 1010 Vienna (690.008)
General and Historical Facts
The former imperial garden had its heydays under Emperor Ferdinand I (1521–1564) when it was called "Purkhgarten". Then, it was home to numerous buildings and featured outstanding garden work.
After part of the old bastions had been blown up in the Napoleonic Wars, they were demolished and removed in 1809. The garden was redesigned according to the preferences of Emperor Francis I (1768–1835) between1817 and 1819. Yet, in fact, it would be re-designed and expanded again and again in the decades to come. As Neue Burg was added in 1881, the garden was reduced in size. The Palm House was built between 1902 and 1906. In 1909, the terrace with stairs was completed.
In 1919, the premises belonging to Neue Burg were re-designed and opened to the public.
In 1953, the Mozart Memorial was placed in Burggarten; it is one of the most often photographed motives of the Imperial Palace Vienna.
In the period between 1988 and 1992 the underground archive of the Austrian National Library was added beneath the terrace in front of the Neue Burg building.

The garden is operated by Österreichische Bundesgärten.

Occupants:
Österreichische Bundesgärten
Beetz – public toilet (highly recommendable information on public toilets)
 
Burghauptmannschaft Österreich – Departments in charge:
Building Management Dep. 302 – Alte Burg
HVAC  Dep. 306 – HVAC
Property Management  Dep. 201 – Administration