PRO-Heritage
Protect traditional built Heritage Skills
PRO-Heritage aims to protect traditional craftsmanship and to pass these skills and this knowledge on to future generations.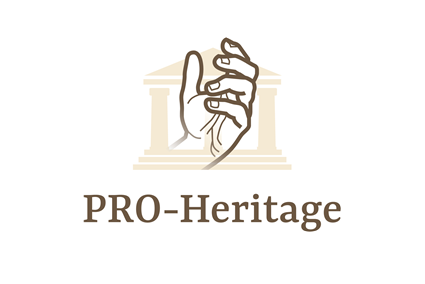 Using their own best practice examples, the project partners endeavour to offer specialists and craftspersons basic and advanced education and training opportunities featuring traditional skills and competencies in heritage conservation. Furthermore, PRO-Heritage aims to develop the basis for a revival of journeymen's travels in Europe so as to foster and enhance exchange and knowledge-sharing in Europe.
Major needs addressed in PRO-Heritage are:
• to protect traditional competences and skills for built Cultural Heritage relevant for energy efficiency and renewable energy
• the need to involve adequately educated and trained professionals and craftsmen in "soft" conservation, maintenance and ongoing care
• the need to certify those professionals and craftsmen in order to give them recognition of their competences and skills
Protect traditional built Heritage Skills
According to the climate change and energy policy of the EU, each member state needed to identify and develop a series of energy efficient goals and regulations, of which buildings are a key element, in order to reach the set goals. However, Europe has numerous historic buildings, which need permanent maintenance and refurbishment in order to fulfil the requirements of sustainability and use. When responsible bodies do spend money anyway, it seems logical and ecologically worthwhile to apply "soft" maintenance procedures, which save costs and also reduce energy consumption of historic buildings. Integrating these buildings into national climate change and energy policies seems therefore quite necessary and a challenge, as far as appropriate techniques and procedures are concerned, which can only be met through excellently trained craftsmen and apprentices of the crafts concerned. PRO-Heritage partners aim to offer initial and permanent education for professionals and craftsmen providing traditional competences and skills for built heritage, based on Best Practice of partner organisations. Additionally, PRO-Heritage is going to establish a structure and environment for regular journeyman's travel in Europe, in order to further support the exchange of competences and skills across Europe.
Achieving better energy performance in historic buildings is a WIN-WIN situation for all – owners facing less energy costs, residents enjoying modern comfort at reasonable prices and society reducing energy consumption and CO2 emission.
Involved partners:
Burghauptmannschaft Österreich

English Heritage Trust
Culturatrust
National Trust of Slovakia
Secretaria Geral da Presidência da República Portuguesa
UBW

Unternehmensberatung

Wagenhofer GmbH

Asociación Española de Gestores de Patrimonio Cultural

European Certification and Qualification Association GmbH
I.S.C.N. GmbH
Find more information about the partners

Find more information about PRO-Heritage