Ludwig Viktor Palace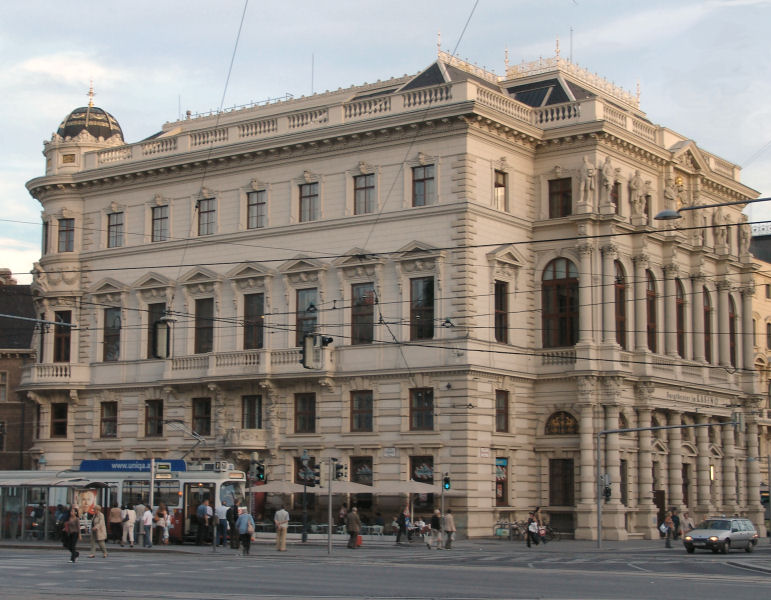 Schwarzenbergplatz 1, 1010 Vienna
(690.035)
General and Historical Facts
The representative palace was built for Archduke Ludwig Viktor, the youngest brother of Emperor Francis Joseph I (1830-1916) according to plans drawn by renowned Ring Road architect Heinrich von Ferstel (1828–1883) in 1869. It was the first building of the homogeneously designed Schwarzenbergplatz Square.
The Palace, which is located at the corner of Schubertring Road/Schwarzenbergplatz Square is a free-standing structure on three sides and reflects the Italian Renaissance style. The main façade faces Schwarzenbergplatz Square and a clearly protruding central avant-corps dominates its appearance. The tall arched windows of the festive hall on the first floor are flanked by Corinthian columns, above which six larger than life stone statues are positioned. They represent famous figures from the history of Austria. Centered in between the figures, the Archduke's coat of arms is visible. Above, the rich silhouette of the roof is surrounded by a fascia balustrade.
Inside the building, the monumental vestibule and its nine domes stick out significantly, as well as the double open stairway with its open marble balustrade and the large festive hall (Festsaal). The hall stretches over two floors and has a richly ornamented ceiling. The festive hall serves the Vienna Burgtheater as rehearsal stage and venue.
Renovation took place on a larger scale around 1900 and the building ended up being bought by the royal military research association and military casino when its owner moved to Salzburg in 1910. After the Second World War the Palace was used by the Soviet occupational forces first and later by the Federal Ministry for Trade and Reconstruction. A partial extension of the top floor was made in 1986 to accommodate the offices of the Federal Ministry of Economic Affairs. In 2001, the façade facing the street and the roof underwent a complete renovation.
The building currently houses a scientific institute, a research institute and an institute of economics, as well one of the stages of Vienna's Burgtheater ("Kasino am Schwarzenbergplatz") and the Vienna Officer's Association. The basement and the ground floor are rented out to business company.
Occupants:
Federal Ministry of Education Science and Research  
Burgtheater - Das Kasino am Schwarzenbergplatz
Offiziersgesellschaft Wien (Vienna Officers' Association)
Alt-Neustadt - Absolventenvereinigung der Theresianischen Militärakademie (Alumni Association of the Theresan Military Academy)
 
Burghauptmannschaft Österreich – Departments in charge:
Building Management: Dep. 401 – Belvedere
HVAC: Dep. 306 – HVAC
Property Management: Dep. 201 – Administration
Telephone: Dep. 103 – Telecommunications