Austrian Academy of Sciences II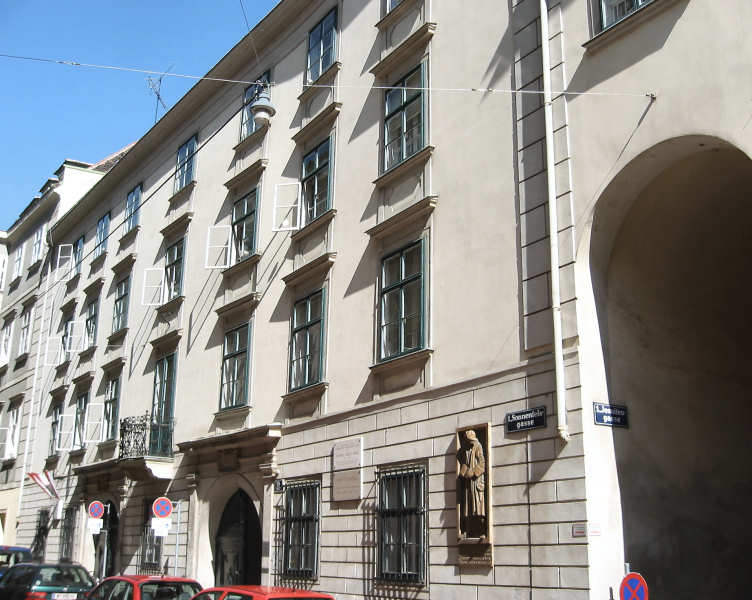 Sonnenfelsgasse 19, 1010 Vienna 
(690.057)
General and Historical Facts
The "domus universitatis" was the living quarters of a university administrative official formerly known as "bedel". The building was bought by Jesuits and connected to the adjacent building when they took over the university in 1628.

In 1630, it housed the university's bedel and remained, later on, the seat of the Academic Senate and the headmaster's office at the Old University until 1884. The building was an Early Baroque administrative building and more storeys were added in 1721. It now consists of the ground floor and three upper floors. The inner courtyard, which was covered with a modern glass roof, can be reached through the entrance and the round-arch portal. The rooms on the ground floor feature groined vaults and the first floor includes a ceremonial hall, also called "mall theatre hall". The building is connected to the university church through a bridge in the form of a flying buttress above the alley Jesuitengasse.
The building was last renovated in 1980 and houses several facilities of the Institute for Humanities research at the Austrian Academy of Sciences. In commemoration of the longstanding head of the academy, the building was named "Herbert Hunger-Haus".
Occupant:
Austrian Academy of Sciences
 
Burghauptmannschaft Österreich – Departments in charge:
Building Management: Dep. 402 – Winter Palace
HVAC: Dep. 306 – HVAC
Property Management: Dep. 201 – Administration