Naturhistorisches Museum

(NHM)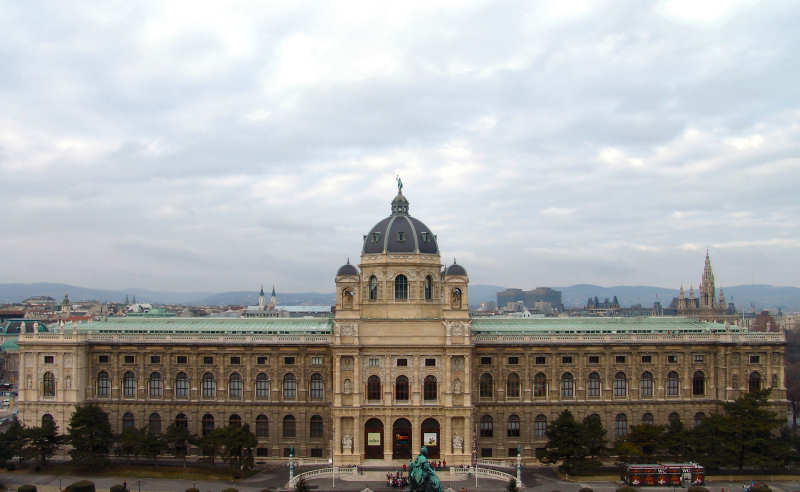 Burgring 7, 1010 Vienna
(690.003)
General and Historic Information
Emperor Francis I, Stephan of Lorraine (1708-1765) – spouse of Maria Theresa (1717-1780) – purchased a scientific collection (including fossils, snails, mussels, corals, minerals, and precious stones) in the middle of the 18th century, which was considered a very important and large collection at the time. At about the same time, he sent his first scientific expedition overseas. It was headed by Nicolaus Joseph Jacquin and returned in 1755 with a wide array of live animals and plants as well as 67 cases full of other miscellaneous items of interest from the natural world.
After the Emperor's death, the collection was handed to the State and was reorganised and opened to the public. It was also expanded (with minerals in particular) under Maria Theresa.
Later, Emperor Francis II/I (1768-1835) added the extensive, and, in part, very old, collection of Habsburg hunting trophies to the collection in the form of an animal gallery. In 1807, a plant gallery was added as well. Subsequently, the Habsburgs sponsored several expeditions (among others, to South America and the North Pole), which brought home further specimen for the collection. As the collection had grown excessively, it became necessary to dedicate a separate museum to it.
Gottfried Semper's and Carl Hasenauer's plans for the Imperial Forum included two twin buildings dedicated to art and natural history which were to face each other. The construction for the museum of natural history started in 1871 and it opened in 1889.
The building is 170 metres long and 70 metres wide and is crowned by a cupola with tambour on which a colossal bronze statue of Helios, the Greek sun god, resides. The façade is ornamented with allegorical and mythical illustrations and 34 statues of scientists. The cupola hall and the stairway are home to numerous statues, and illustrations or depictions of findings, primeval landscapes and far-away countries.
In 1926, the ethnographic section became a separate collection (under the Ethnographic Museum) and was moved to the Corps de Logis in the Neue Burg wing due to its large size. Apart from the construction of a deep storage facility (1990) and the roof extension in the middle of the 1990s, the museum building had been barely modified.
Nowadays, the Museum, has got over 20 million objects, among which the 25,000-year old statue of "Venus of Willendorf" is most likely the most famous one.
Occupant:
Naturhistorisches Museum
 
Burghauptmannschaft Österreich – Departments in charge:
Building Management Dep. 403 – Museums
HVAC Dep. 306 – HVAC
Administration Dep. 201 – Administration
Telephone Dep. 103 - Telecommunications