Austrian Academy of Sciences I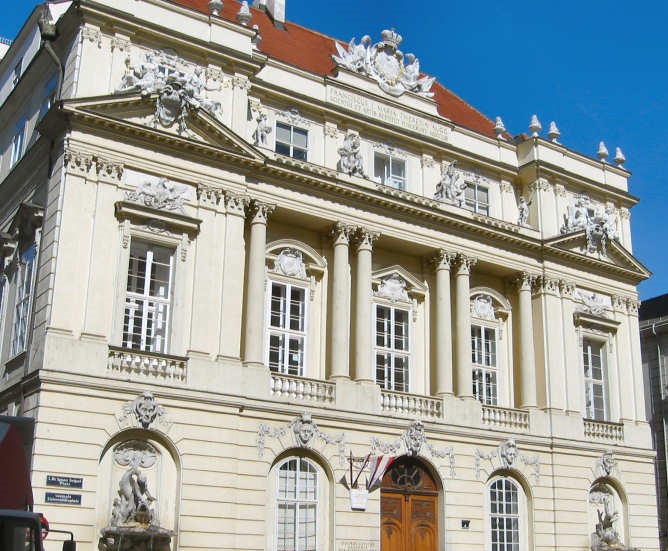 Dr. Ignaz Seipel Platz 2, 1010 Vienna
(690.362)
General and Historical Facts
The building was built between 1753 and 1755 based on plans by Lorraine architect Jean Nicolas Jadot de Ville-Issey. Its construction was executed by Johann Enzendorfer, Daniel Christoph Dietrich and Johann Adam Münzer.
The festive inauguration ordered by Emperor Francis I (1708–1765) and Maria Theresia (1717–1780) took place on April 10th, 1756. In 1758, minor restoration works were carried out by Nicolaus Pacassi. The auditorium offered space for all four faculties (medicine, theology, philosophy, and law & political science) as well as the university's astronomical observatory, established by Maximilian Hell. The rooms on the upper floor were used by the Academy of Fine Arts back then (today: 1010 Vienna, Schillerplatz Square).

In 1857, the building became the seat of the Imperial Academy of Science, which had been founded by Emperor Ferdinand I (1793–1875). Only the Festive Hall was available to the university until 1883.
The building was handed over to the Austrian Academy of Science in 1945 and has become its main seat, which houses its administrative departments, its library and its archive.

The rooms are used for numerous scientific and academic events, such as congresses, lectures, symposia etc. and the auditorium on the ground floor is often used for scientific or academic exhibitions. The annual traditional formal meeting, where members of the Academy of Science present their annual reports to prominent representatives of politics, culture, economics and the academia in the Festive Hall, constitute the peak of each working year.
Occupant: 
Austrian Academy of Sciences
 
Burghauptmannschaft Österreich – Departments in charge:
Building Management: Dep. 404 – Winter Palace
HVAC: Dep. 404 – Winter Palace
Property Management: Dep. 201 – Administration