Swiss Wing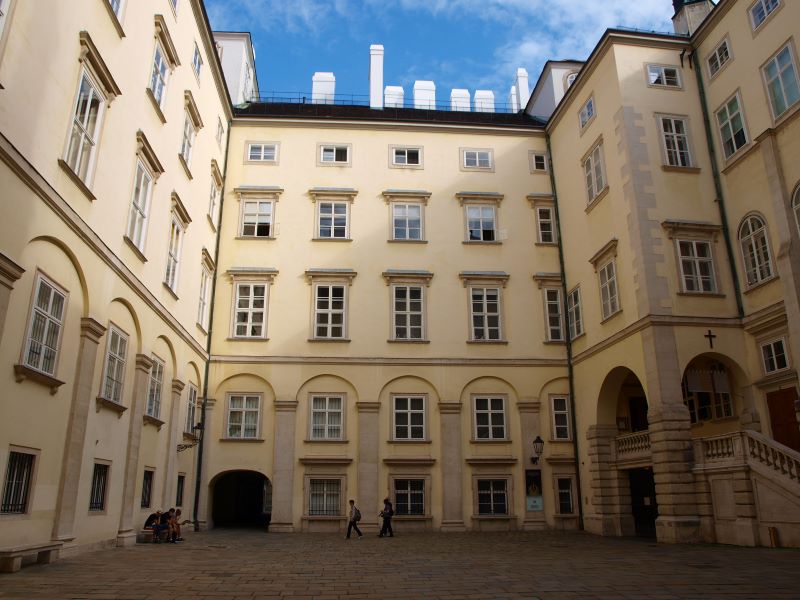 1010 Vienna, Schweizerhof (690.005/010)
General and Historical Facts
"Alte Burg"

When Austria became an archduchy in 1156, Vienna was chosen as its royal seat. Unfortunately, nothing remains of the Babenberg residence at Am Hof anymore. When the Babenberg dynasty died out, King Ottokar II Přemysl of Bohemia (1230–1278) became the righteous ruler of Vienna by marriage. Around 1275, he initiated the construction of a fortress to be situated within the city walls of Vienna. It consisted of four towers and was placed around a rectangular courtyard, which is referred to as Swiss Court today. Fighting for the German crown, King Ottokar was not only defeated at the Battle of Dürnkrut (Lower Austria) by Rudolf I of Habsburg (1218–1291), but even killed during his retreat.

After the old residence of the Babenbergs had burnt down around 1276, Rudolf moved to the former castle of King Ottokar some time around 1279. The descendants of Rudolf expanded the castle only slightly by adding a chapel (first mentioned in 1296), St. Augustine's Church (consecrated in 1349), and by making some adaptations to the chapel (1423–1426). Eventually, Vienna lost its significance due to the division of the Habsburg's hereditary lands. Also, there was a lack of financial resources to finance the further expansion of the castle.
Under Emperor Frederick III (1415–1493) – first emperor of the House of Habsburg – Vienna became an imperial residence. However, Frederick and his successors used the Vienna residence only rarely, which is the reason why the Palace was in an abandoned and dilapidated state at times. It was Ferdinand I (1503–1564) who eventually revived Vienna as the archduchy's capital: Spurred building activity led to the expansion and addition of another storey to the three wings surrounding the Swiss Court. The fortification wall in the northeast, to which the Swiss Gate (Schweizer Tor) was added (built in 1552, probably by Pietro Ferrabosco), thus, became the fourth wall encircling the yard. Also, another wing was added in the southwest to accommodate Ferdinand's children (Kinderstöckl, meaning "children's residence"). The Exchequer and the Chancellery – authorities which, at that time, had just been constituted – were integrated into the adjacent buildings at the castle square (Burgplatz). Furthermore, an art chamber, a hospital, a passageway leading from the Palace to St. Augustine's Church and a ballroom building were added.
Under Emperor Charles VI (1685–1740) and his daughter Maria Theresa (1717–1780) Säulenstiege (stairway) was added and the chapel equipped with a superstructure. Also, the last remains of the corner towers were removed.
The Imperial Treasury goes back to Emperor Ferdinand I; Emperor Charles VI relocated it to its present place on the ground floor in the East.
The old castle gate which had been called Swiss Gate since the 18th century, was completed in 1552. In fact, the wheels of the old castle's drawbridge still exist.

Occupants: 
Bundesdenkmalamt (BDA, Federal Monuments Office)
Wiener Hofmusikkapelle (Imperial Court Chapel/Court Music Orchestra)
M.A.C.-Hoffmann & Co.GmbH
Kunsthistorisches Museum – Imperial Treasury
Burghauptmannschaft Österreich (BHÖ) 

 
Burghauptmannschaft Österreich – Departments in charge:
Building Management Dep. 302 – Alte Burg
HVAC  Dep. 306 – HVAC
Property Management  Dep. 201 – Administration
Telephone: Dep. 103 – Telecommunications (BDA and BHOE)