Imperial Stables (Stallburg)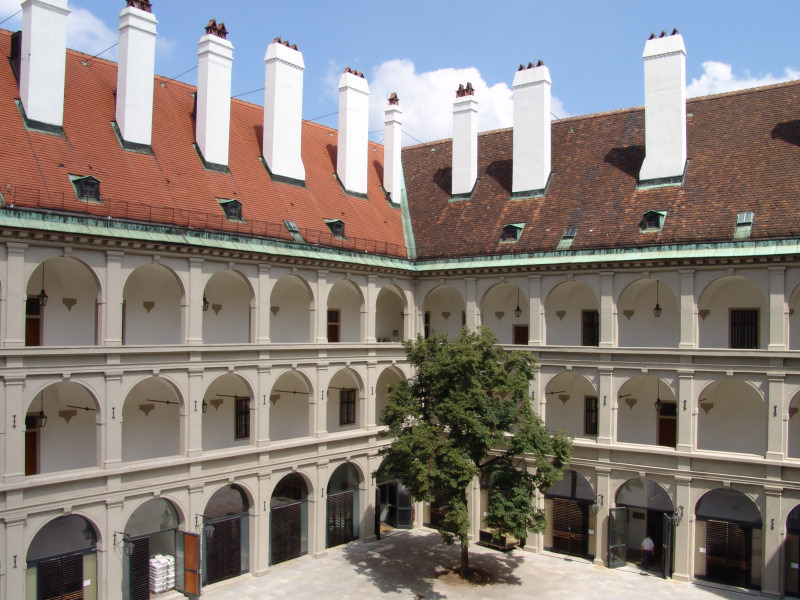 1010 Vienna, Reitschulgasse 2 (690.093)
General and Historical Facts
In 1559, Emperor Ferdinand I commissioned the erection of a solitary residence for his son. The construction for the building to be placed on the premises of the church building of "öden Kirche" was delayed, however. Eventually, Maximilian II (1527–1576) moved into the old castle after his father died in 1564. He then had the building, which had once been intended to become his residence, converted into royal stables (hence, Stallburg or Imperial Stables) for his Spanish horses, and added another storey in 1565.
The Riding School was renovated around 1663, which was also when another floor was added to house the library. In 1722, Emperor Charles VI (1685–1740) commissioned Johann Bernhard Fischer von Erlach with the erection of another building to house imperial stables outside the city walls as well as the imperial court library (Hofbibliothek).

After Johann Bernhard Fischer von Erlach had died his son, Joseph Emanuel Fischer von Erlach, took over. In 1725, the palatial front wing of the stables was completed. The royal library, which contains frescoes by Daniel Gran and imperial statues by Paul Strudel, followed suit in 1737. It was refurbished under Maria Theresa (1717–1780), who also installed a pharmacy (former pharmacy of the imperial court) in the Stallburg building.
Emperor Charles VI's art collection was relocated from the Stallburg building to the Upper Belvedere Palace. The first was stormed in the turmoil of the revolution in 1848, which is also when the roof of the imperial court library caught fire and burnt down.
Emperor Francis Joseph I (1830–1916) had a Winter Riding School featuring Classicist style added to the Imperial Stables. By the end of the 19th century, an octagonal pony riding hall was added for Empress Elisabeth.
The building was repaired after having been severely damaged by bombs during the Second World War. Also, the Stallburg building was reconstructed.
(Source: Trenkler, Thomas: "Die Hofburg Wien", Vienna, 2004)

Expansion of the Stallburg stables:
The following construction measures were carried out for the expansion of the building:
Adaptation of the arcades on the ground floor at Stallburggasse Alley and Bräunerstraße Street to provide space for eleven more horse stalls; addition of new gates as well as sun protection slats, refurbishment of the basement, installation of a lift for transporting goods as well as remodelling of approx. 1000 m2 of the Renaissance courtyard (see folder at Downloads).
Occupants:
Federal Ministry for European and International Affairs
Spanish Riding School
Vienna Congress Center (Wiener Kongresszentrum Hofburg Betriebsges.m.b.H.)

Burghauptmannschaft Österreich – Departments in charge:
Building Management Dep. 301 – Congress Center
HVAC  Dep. 306 – HVAC
Property Management  Dep. 201 – Administration