Heroes' Square

(Heldenplatz

)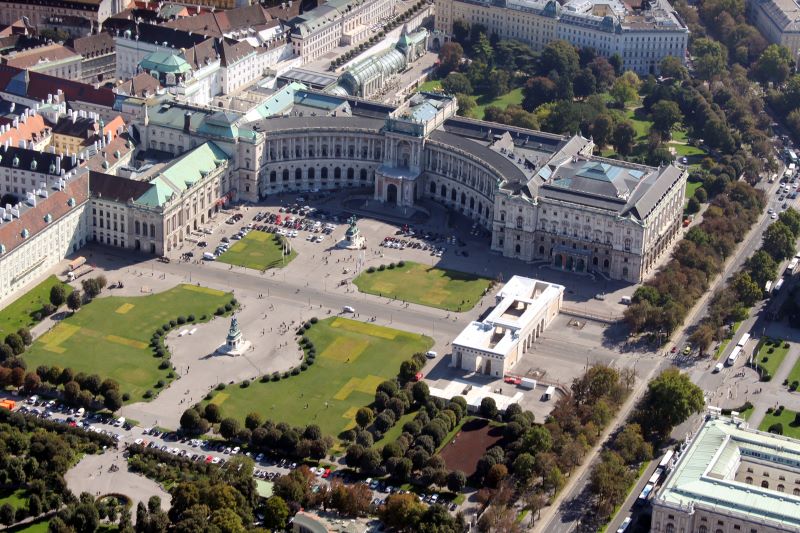 1010 Vienna (690.010)
General and Historical Facts
After part of the old bastions had been blown up in the Napoleonic Wars, they were demolished and removed in 1809.
After the Congress of Vienna (1814/185) the debris was removed and the area levelled. Until 1821 the square was referred to as parade ground ("Paradeplatz") and used as such by the military. In the 1860s, Anton Dominik Fernkorn's equestrian statues for Archduke Charles (victory over Napoleon at the Battle of Aspern) and Prince Eugene of Savoy (victory over the Turks in several battles) were placed on the outer castle square.
In the period from 1933 to 1934, the outer castle gate (Äußeres Burgtor) by Rudolf Wondraček was redesigned to become a war memorial for the victims of the First World War. In 1935, the pylon portals featuring eagle sculptures by Wilhelm Frass were added to the left and right of the Gate. In March 1938, Heldenplatz Square and the balcony of the Neue Burg wing gained sad notoriety, as it was here that Adolf Hitler announced Austria's Anschluss (annexation) to the German Reich to a cheering crowd. The National Socialists planned on remodelling the Square to turn it into a parade and ceremonial area. The plans were never realised, though; instead, a fire pond was dug there in 1943. Later, the Square was used for agricultural purposes. The Messepalast building was used for propaganda events during the Nazi era.
In the last years of the Second Republic, Heldenplatz Square was a popular venue for large events, protest marches and large-scale rallies: papal visits, events by the federal government and military presentations on Austria's National holiday.
The gardens are managed by Österreichische Bundesgärten.
Occupants:
Federal Ministry of Defence (consecration hall and crypt in the castle gate)
Österreichische Bundesgärten
Burghauptmannschaft Österreich – Departments in charge:
Building Management Dep. 303 – Neue Burg
HVAC  Dep. 306 – HVAC
Property Management  Dep. 201 – Administration